Welcome to The Weekender, Coveteur's travel series where seasoned globetrotters share their insider guides to the best destinations around the world. Read on for the best places to eat, stay and enjoy.

When I ask Clifford Nae'ole, Cultural Advisor at the Ritz-Carlton Kapaula, how he describes culture on Maui, he responds with a metaphor: "It's like opening the front door," he says. "We want you to leave these islands as a family and feel the energy and culture of this place." Nae'ole recently hosted the annual Property Arts Celebration – the reason I flew 11 hours across an ocean and an entire continent to reach this scenic island.
When you think of Hawaii, palm trees, spectacular waterfalls, and hibiscus spring to mind. But beneath this layer is a rich mosaic of culture that serves as the best lens to view this spiritual place. "Cultural advisors used to be conveniences, now they're necessities," says Nae'ole. "We're never afraid to ask tough questions and that's good. That's why it's here. Learn." Over the weekend, which celebrated its 30th anniversary this year, I attended traditional ceremonies led by cultural practitioners, took a hula class, planted Koa trees, watched a documentary on the Hawaiian activist George Helm and witnessed demonstrations and a falsetto contest. What I was left with was what Nae'ole describes as kuleana (responsibility).
"Be aware, keep an open mind, listen and observe like you're on a dinghy without GPS or coastguards," he says. "Visitors to Maui should not expect an amusement park. Learn our history, so if something happens in your kingdom that could help the plight of the people of Hawaii, you can be part of the solution. Coming soon is a guide to enriching yourself in a deeply-loved Hawaiian culture with ideas on where to stay, what to do, and where to eat and drink. Hello!
Where to stay
The Ritz-Carlton Kapalua
Photo: Courtesy of Nicole Kliest
When the Ritz-Carlton opened in Maui in 1987, they made a discovery that completely changed their outlook. On a 13.6-acre parcel of land, the remains of over 2,000 Hawaiian kupuna (ancestors) dating from AD 850 to the early 1800s were unearthed. The company made the decision to abandon its plans, redesign the hotel and move it inland. leaving this resting place untouched and accessible only to those performing traditional ceremonies.
Despite being part of a large, globally recognized brand, this hotel was deeply spiritual and intimate. The property is located on the northwest shore of Maui with stunning views of the Pacific Ocean and situated on 54 acres of land. There are several restaurants on site (the beachfront Burger Shack was my favourite, more info below) and the spa was a slice of heaven (ask for the LomiLomi massage, a treatment based on Hawaiian concepts that uses techniques to increase circulation and relieve tension).
The focus on Hawaiian culture is what stands out from my stay here. It can be difficult for large corporate hotels to deal with this in a way that feels genuine, but they hit the nail on the head by hiring and empowering Nae'ole to lead the property by educating guests on the cultural traditions of the island. I came away from the experience with a newfound understanding and appreciation for this spiritual and sacred place.
RESERVE
What to do
Snorkeling in Kapalua Bay
Photo: Courtesy of Nicole Kliest
Confession: I find snorkeling a bit disturbing. I'm much happier swimming in the ocean with my nostrils above water. However, if you are a fan of snorkeling like my boyfriend, you have to go to Kapalua Bay. He spotted sea turtles (!), technicolor corals and countless weird and beautiful fish. I regret that I didn't, so don't make my mistake and just give it a try. It was a 15 minute walk from the resort and breathtaking.
Plant a tree in the Pu'u Kukui watershed
Photo: Courtesy of Nicole Kliest
One of the activities I did during the Ritz-Carlton Arts Celebration Weekend was to volunteer at the Pu'u Kukui watershed. After climbing a small mountain in the rain (when in Rome!), my fellow volunteers and I planted about 600 trees in total, one of them being the Koa tree, which is used to build the iconic canoes of long distance travel. If you're in town and looking for a way to give back to the island, consider going to the watershed. You can also visit the state's Malama website, which is a helpful resource for finding programs where tourists can help restore Hawaii's natural habitats.
Take a hula lesson
Photo: Courtesy of Nicole Kliest
As part of the hotel's celebration of the arts, I took a hula class with Mapuana Samonte who explained to me the origins, history and cultural context of this style of dance. She gives classes on Sundays in Kahului in the styles of Kahiko, Auana and Tahitian. No matter your age, gender, or skill level, this is an immersive activity that I can't recommend enough (seriously, I was stepping aside and swaying my hips next to a 70-year-old man passing the best time of his life).
Take part in a sunrise ceremony
Photo: Courtesy of Nicole Kliest
Practitioners at the Ritz-Carlton offer guests the opportunity to participate in a sunrise ceremony (also known as "E Ala E," which means awakening). When I chatted with Nae'ole, he lovingly called it the Hawaiian Faith Booth. "We walk through water and think about what we did yesterday, the month before and the year before. You go there and you reconcile with yourself and you let the waters of Mother prevail. After this reflection (which involved swimming in the ocean for about five minutes), my fellow confessors and I gathered at the beach and sang to "rise" the sun.
Watch the sunset at Haleakalā National Park
Photo: Courtesy of Nicole Kliest
After a few nights at the Ritz-Carlton, we grabbed a rental car and headed to the island's national park, home to a dormant volcano and a completely different landscape to what you'd expect from a tropical climate like Maui. The popular thing to do here is watch the sunrise, but you need to get a permit and if you don't do it in time (i.e. me) then sunrise is an equally good way beautiful to discover this volcanic terrain. A word of warning: resist the temptation to take any of the volcanic rocks home with you: it's illegal, culturally inappropriate and said to bring you bad luck.
Drive the scenic route to Hana
Photo: Courtesy of Nicole Kliest
I'm a big fan of road trips (see here). So when I read there was an iconic road in Maui with waterfalls, roadside coconut huts, and lush landscaping along the way, it was instantly cemented to the route. The Road to Hana is only 64 miles long, but it's narrow and winding (about 600 turns) and the bridges are one-way, which means it takes a while to drive. Also, if you stop to discover fresh water to bathe in or want to make a stop at the Garden of Eden where the opening scene of jurassic park was filmed, then you should dedicate the whole day to fully experience this lush wonderland.
Swim in the black sand beach of Wai'ānapanapa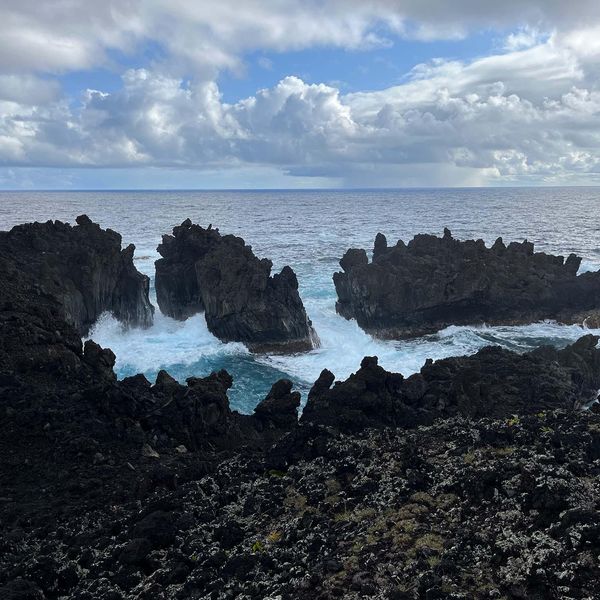 Photos: Courtesy of Nicole Kliest
If the sound of a volcanic coastline punctuated by black sand beaches piques your curiosity, head to Wai'ānapanapa. My visit here was another reminder of the diversity and uniqueness of Maui's different landscapes. I was able to get a camping reservation here, but I suggest getting yours early as they go fast. After a dip in the ocean and exploring a few seaside caves, I went for a hike along an ancient volcanic coastal path contrasted by vibrant green plants and trees. In other words, fodder for my camera.
Hike the Pīpīwai Trail
Photos: Courtesy of Nicole Kliest
Another highlight of my time on Maui was hiking the Pīpīwai Trail. This is a 3.8 mile round trip trail that takes you through a diverse landscape, including a bamboo forest, before reaching a lush valley surrounded by dramatic, craggy waterfalls known as the name of Waimoku Falls. It was a bit challenging at first (there is about a 900ft elevation gain) but manageable for all levels and only took a few hours.
Where to eat and drink
Burger Shack at the Ritz-Carlton Kapalua
Photo: Courtesy of Nicole Kliest
Technically speaking, the hotel's star restaurant is the Banyan Tree, which I highly recommend. But if you're like me and the idea of ​​the perfect meal is a burger and a beer al fresco amidst the sound of crashing waves and the chirping of birds, then you'll want to head to The Burger Shack. It's not a bad idea to save room for dessert as their milkshakes are a work of art (I had the Mai Tai themed one).
Hana Hou Surf Club
Photo: Courtesy of Nicole Kliest
Like most, I enjoy a nice bowl of acai, and the South Side Swell concoction at Hana Hou Surf Club in Paia – although it cost me $18 – was well worth it. If you're doing the road to Hana, stop here for a coffee and a bowl and enjoy it in their outdoor garden. If you have time, stroll around this sleepy hippie town to appreciate its laid-back bohemian vibe.
Roadside fruit stalls
Photos: Courtesy of Nicole Kliest
One of the best things you can do on Maui if you've rented a car is stop at the roadside fruit stands stocked with mangoes, avocados, and papayas, among many others. We stopped on the road to Hana at a farm stand where the owner grabbed a coconut that had fallen from the tree a few hours earlier, cracked it open with a machete, and offered it to us without a straw (l purist approach, apparently). Another necessary stop is for banana bread and shaved ice at the Halfway to Hana stand.
Mom's fish shop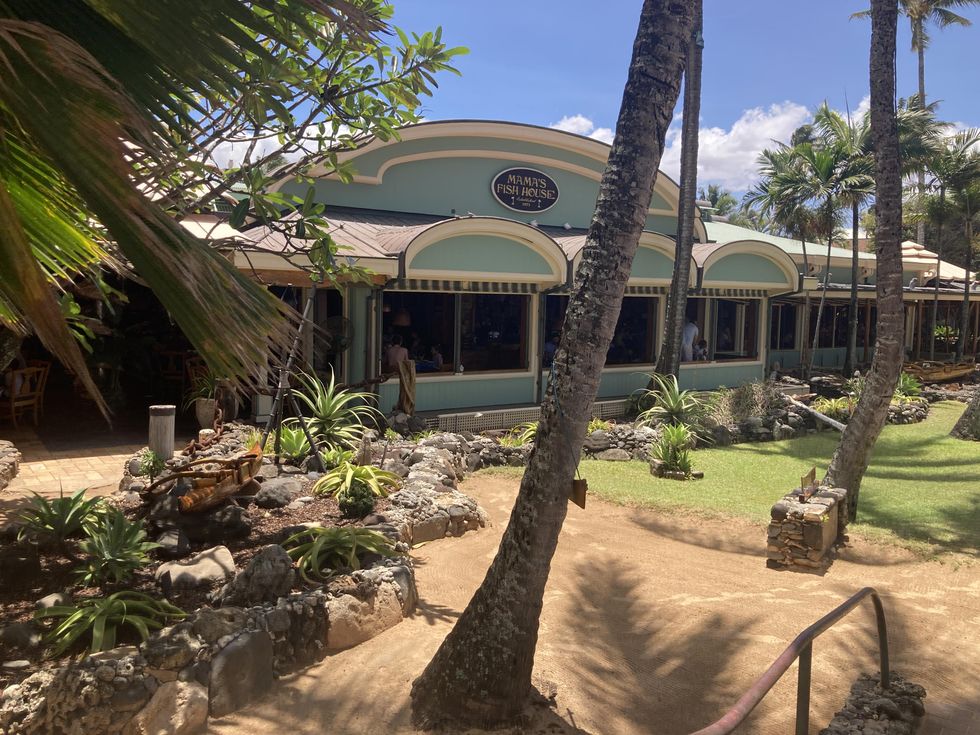 Photo: Courtesy of Nicole Kliest
My last meal before leaving Maui was at Mama's Fish House: a James Beard Award semi-finalist family restaurant that, unbeknownst to me, is usually booked out three to six months in advance. By a miracle sent from above, we were able to sit at the bar. My boyfriend and I shared the diver-caught Maui octopus (pan-fried and sliced) and the macadamia-crusted Kanpachi (life-changing). I would rank this as an essential dining experience on Maui, hands down.
Maui Packing Essentials Shop: